The New Mexico Nursing Education Consortium (NMNEC) is a voluntary coming together of New Mexico state- and tribal-funded nursing education programs who have chosen to collaborate with and support each other to provide quality nursing education throughout New Mexico.
This collaborative work is done by faculty and leaders of the participating nursing education programs with contributions from supportive individuals and organizations. Currently, the work of NMNEC consists of:
Supporting NMNEC program leaders and faculty by providing structure and resources needed to collaboratively respond to nursing education challenges.

Collecting and analyzing NMNEC-wide program evaluation data from NMNEC faculty, students, and programs to inform NMNEC decision-making.

Exploring and developing options that create pathways for New Mexicans to enter nursing.

Providing NMNEC programs and faculty with the necessary resources to implement and teach the NMNEC curriculum.

Maintaining the quality of the common statewide NMNEC pre-licensure RN curriculum (ADN and BSN) through continuous faculty review that the curriculum is responding to changes in healthcare and is in alignment with state regulations and national accreditation standards as well as current health care practices.
NMNEC Vision
Collaborative partnerships between public and tribal-funded New Mexico nursing programs builds a culture of communication, support, and unified decision-making that facilitates the ability of nursing programs to prepare a qualified, diverse, and professional nursing workforce to address the healthcare needs of New Mexicans.
(NMNEC Leadership Council updated 03.11.2021)
NMNEC Mission
The mission of the New Mexico Nursing Education Consortium is to prepare nurses for entry into practice and educational advancement through developing and sustaining a resource-efficient and unified system of accessible, innovative, and state-of-the-art nursing education.
(NMNEC Leadership Council updated 03.11.2021)
NMNEC Values
(NMNEC Leadership Council approved 05.27.2021)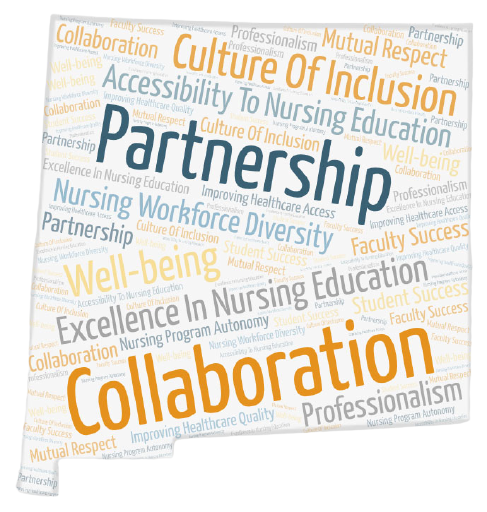 NMNEC Goals
Increase number of nurses with BSN and graduate degrees in New Mexico.
Improve efficiency, quality, and educational outcomes of nursing education through collaboration among New Mexico public and tribal-funded community colleges and universities.
Promote a culture of inclusion and increase the diversity of the nursing workforce in New Mexico by improving accessibility to nursing education for under-represented groups.
Continuously seek ways to sustain the work of NMNEC.
(NMNEC Leadership Council updated 03.11.2021)