The New Mexico Nursing Education Consortium (NMNEC ⋄"nem-nek") is a collaborative of state- or tribal-funded nursing programs across the state with a common pre-licensure RN nursing curriculum that supports multiple pathways into nursing.
The Curriculum
The NMNEC statewide common curriculum was approved in 2012 and implemented in two schools that year. In 2020, the common pre-licensure curriculum has been implemented in twelve schools in sixteen locations providing transferability in all four quadrants of the state.
Sep
2
Wed
Healthy Nurses, Healthy Communities – Behavioral Health Series – Every Wednesday in September at 4pm

@ Zoom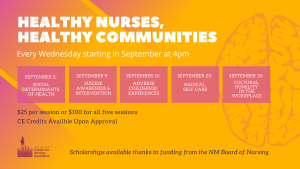 Sessions
September 2: Social Determinants of Health
Jean McEldowney, MSN, MS, RN – CKM Health Alliance
This presentation will review the impact of geographic location on the prevalence of chronic conditions and health outcomes. Research indicates that 70-80% of a person's overall physical and behavioral health is driven by social and environmental factors or Social Determinants of Health (SDOH); conversely 80% of healthcare dollars are spent on clinical care.
September 9: Suicide Awareness & Intervention
Molly McCoy Brack, MA – Agora Crisis Center
This presentation will discuss the scope of the problem of suicide in our community and the myths and stigma that surround it. The group will learn how to recognize that someone may be at risk for suicide, how to talk to the person at risk about suicide, and then how to help them make a plan to stay safe.
September 16: The Vital Role of Nurses in Ending the Epidemic of Childhood Trauma
Dominic Cappello, MA – Age Eight Institute for the Data-Driven Prevention of Childhood Trauma
We live in a society that looks the other way as our children are traumatized by ten adverse childhood experiences (ACE). It's not that we don't care, we do. But we have not, up until now, had a framework for preventing the trauma that diminishes the lives of children and their struggling parents. Cappello provides an overview of ACEs, a two-decade history of prevention efforts yielding few results, and a new groundbreaking strategy called the 100% Community initiative for mobilizing each county around a process of ensuring the ten vital services for surviving and thriving–including medical and mental health care–the centerpiece of ACEs prevention.
September 23: Radical Self Care
Theresa Olguin, LMFT – Awake Aware Albuquerque
This experiential presentation will focus on how to engage in radical self-care to prevent and alleviate burnout when working in a demanding, high-stress position.  Radical self-care goes beyond taking walks and bubble baths; it incorporates a mindful and meditative component that supports whole self-care. Essential aspects to self-care that will be introduced include consistent mindfulness practice, identification of personal values and corresponding behaviors, and workplace agreements/commitments that actuate authenticity and radical genuineness.
September 30: Cultural Humility in the Workplace
Francisco Ronquillo, MA, PA – University of New Mexico
This presentation will focus on Cultural Humility in the workplace.  It will give an overview of Cultural Humility as an approach where service providers develop a lifelong process of learning about other cultures and are sensitive to cultural differences.  It will inform the participants of how to integrate cultural humility in a meaningful and impactful way.
CEs: 1 – 1.6 per session
Registration: $25 for one session – $100 for all
Scholarships are available to New Mexico Nurses thanks to the NM Board of Nursing. 
Oct
23
Fri
Virtual NMNEC Statewide Faculty Meeting: Are We Having Fun Yet: Use of Play in Online Learning

@ Zoom
Oct 23 @ 8:00 am – 11:30 am

WHO SHOULD ATTEND: NMNEC Faculty and Colleagues
PURPOSE: Let's get together for an informal discussion and sharing session. The various methods being used to make the online learning, experience fun and engaging will also be discussed, and while we're at it, let's unwind with humor and games.
PROPOSED TOPICS:
NMNEC Leadership Council and Committee updates and announcements
Creative and engaging techniques for online classrooms
Addressing faculty wellness through fun and games
PROPOSED AGENDA: 2020.10.23 Virtual NMNEC Statewide Faculty Meeting Agenda
New Mexico Board of Nursing's Summer 2020 Nursing News and Views
read more
NMNEC What's New Newsletter_August 2020Download
read more
Education Model
The NMNEC
Nursing Education Model provides multiple pathways into nursing education.