The New Mexico Nursing Education Consortium (NMNEC ⋄"nem-nek") is a collaborative of state- or tribal-funded nursing programs across the state with a common pre-licensure RN nursing curriculum that supports multiple pathways into nursing.
The Curriculum
The NMNEC statewide common curriculum was approved in 2012 and implemented in two schools that year. In 2020, the common pre-licensure curriculum has been implemented in twelve schools in sixteen locations providing transferability in all four quadrants of the state.
Mar
22
Fri
SAVE THE DATE for the next NMNEC Statewide Faculty Meeting!

@ Santa Fe Community College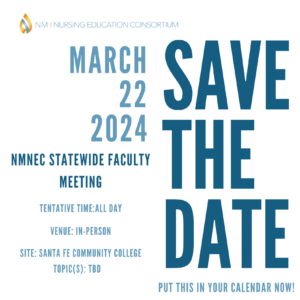 The next NMNEC Statewide Faculty Meeting is now scheduled for March 22, 2024!
Topics and schedule TBD.
More information will be posted as it is available.
Contact staff@nmnec.org with any questions.
Education Model
The NMNEC
Nursing Education Model provides multiple pathways into nursing education.